PharmaAdvantage is a solution utilizing proprietary algorithms utilizing the market and industry data to detect favorable market condition that can trigger adjustments to  professional allowance rates  to optimize the bottom line
PharmaAdvantage allows to you gain insight on favorable market conditions based on the data sets that are often available to you. These data sets include your own backorder data, competitive backorder data, your profitability data, your service level data, market share and size data. PharmaAdvantage brings all these datasources together and using the unique AI powered algorithm provides you adequate insight to tweak your Professional Allowance rates. While availability of all the datasets provide optimal results, they are not mandatory. The parameters that you supplied to the algorithm helps derive the results. Based on the recommendations of you can make PA rate changes to adjust your PA payouts. PharmaAdvantage integrated with PharmaSMS and extends functionality of PharmaSMS. When along with PharmaAnalytics, you can even gain more rewards towards you investments in PharmaAdvantage.
At a Glance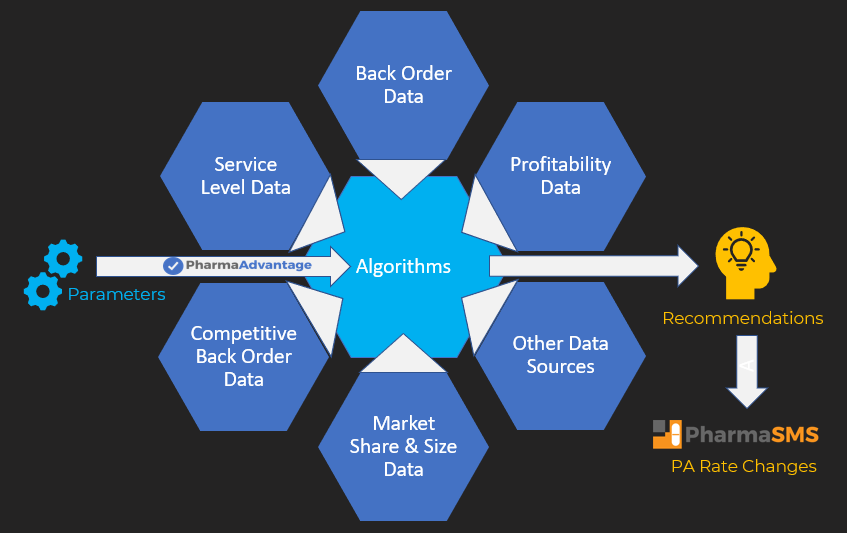 PharmaAdvantage is a set of algorithms

The algorithms work with various data sources including Service Level Data, your Back Order Data, Competitive Back Order Data, Market Share Size and Profitability Data that you have available or access to.
PharmaAdvantage platform lets you consolidate data from these various data sources in a single databases.

You can then tune the PharmaAdvantage Algorithm parameters and run algorithm.

Algorithm output let's you gain insights on the favorable market conditions. The recommendations generated by the algorithm lets you adjust the PA Rates in PharmaSMS manually or automatically.
Data Management Features
Run PharmaAdvantage Algorithm
LEARN


More about PharmaAdvantage